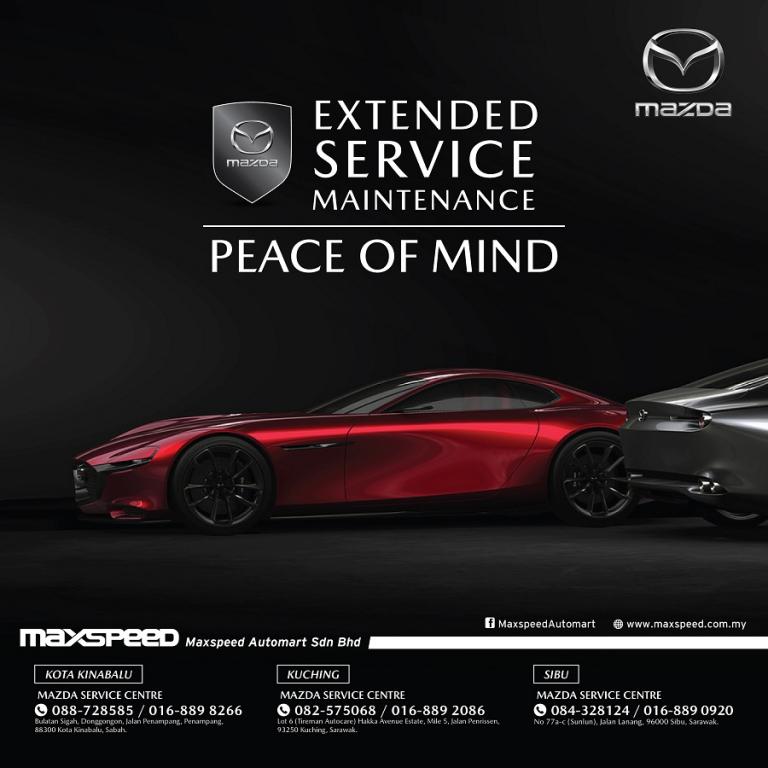 Great news for Mazda owners!
You can now drive with extra peace of mind with Mazda Extended Service Maintenance – a prudent and convenient plan that extends your current Mazda service maintenance coverage by additional 2 years or 4 scheduled services, whichever comes first.
What Are The Benefits?
Through this plan, you enjoy the assurance that your standard Mazda scheduled service cost is fixed against price inflation, along with added benefits during the extended period.
− Zero increase in routine service maintenance cost
− Early detection/prevention of mechanical complications
− Upkeep vehicle performance and roadworthiness
− Benefits transferable to next owner for better resale value
Who Is Eligible?
This plan is available for purchase by owners of Mazda2, Mazda3, Mazda6, Mazda MX-5, Mazda5, Mazda CX-3, Mazda CX-5, Mazda CX-9 and Mazda Biante that are:
− Still within the vehicle's three years free service maintenance
− Have yet to perform the first scheduled service in the fourth year
− Registered between 2016 – 2018
What Is Covered?
This plan covers an extra 4 scheduled services at 10,000km or 6 months interval whichever comes first, and applies to safety checks, service and maintenance at predetermined intervals:
− All work stipulated in the relevant Mazda Owner's Manual
− Replace engine oil (fully-synthetic), oil filter and gasket
− Fluid top-up: windscreen wiper fluid, engine coolant, power steering fluid and transmission fluid
− Replace cabin filter and brake fluid
− Mazda Deposit Cleaner
− Multi-point inspection: brake system, tire (pressure, condition & wheels, rotate), joints & boots, visible hoses & belts, A/C system, battery, headlights, turn signals, wiper blades, exhaust pipes & mounting
− All work carried out by Mazda authorized service network is warranted
Mazda Extended Service Maintenance (Gasoline Models)
For Mazda MX-5
RM2,200
For Mazda5, Mazda2 & Mazda CX-3
RM2,400
For Mazda3 & Mazda CX-9
RM2,600
For Mazda CX-5 & Mazda6
RM2,700
For Mazda Biante
RM2,900
Mazda Extended Service Maintenance (Diesel Models)
For Mazda CX-5
RM3,800
Contact our Maxspeed Mazda Service Centres and extend your peace of mind with Mazda Extended Service Maintenance.
KOTA KINABALU:
Maxspeed Automart Sdn Bhd (Donggongon)
Maxspeed Mazda Building
Bulatan Sigah, Jalan Penampang
88300 Penampang, Kota Kinabalu,
Sabah, East Malaysia
Telephone:
+6 (088) 728 585
Mobile/SMS/Whatsapp:
+6 (016) 889 8266
Operating Hours:
8.00am-5.30pm (Mon-Sat) except Public Holidays
KUCHING:
Maxspeed Automart Sdn Bhd (Kuching)
Tireman Autocare, Lot 6, Hakka Avenue Estate
Mile 5, Jalan Penrissen
93250 Kuching, Sarawak, East Malaysia
Telephone:
+6 (082) 575 068
Mobile/SMS/Whatsapp:
+6 (016) 889 2086
Operating Hours:
8.00am-5.30pm (Mon-Sat) except Public Holidays
SIBU:
Maxspeed Automart Sdn Bhd (Sibu)
Sunlun Auto Service, No. 77A-C, Jalan Lanang
96000 Sibu, Sarawak, East Malaysia
Telephone:
+6 (084) 328 124
Mobile/SMS/Whatsapp:
+6 (016) 889 0920
Operating Hours:
8.00am-5.30pm (Mon-Sat) except Public Holidays
Links
https://mazda.com.my/mazda-extended-service-maintenance